Solid Wood Cabinet / Storage
Select Right Piece of Wood for Live Edge
Wootique believes that logs/woods should be sourced ethically using the standard method of procuring woods which are further used in making custom furniture. Hardwoods like maple, walnut and some exotic woods are good options for live edge furniture.
There are many options for oaks. These include the red, white and black oaks and maple and sycamore. Each species is unique, but it's possible to find a custom furniture maker that specializes in live-edge furniture & that's where our team helps you to pick the bes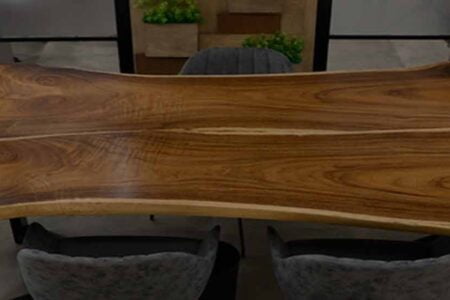 7% Green Twisted Bar Stool ₹14,000.00 ₹15,000.00 Add to Cart Add to wishlist Adding to wishlist Added to wishlist 7% Jute Wooven Stool ₹14,000.00 ₹15,000.00 Add to Cart …
Continue reading
Share your furniture's design in the form of sketch, photo or URL and tell us of any additional/specific customization request including the size.
Select the size of the furniture/ item as per your space availability or requirement.
Customize your shape with our in-house talented designers, who can assist you with your specific concern.
On receiving the details of your custom furniture, our designers will create a rough design with specific customization.
We provide only premium quality materials but you can choose as per your request of customization and we will create using as per the requested materials.
As soon as our team receives the confirmation for the design we will initiate the manufacturing for your dream custom furniture.
After successful manufacturing of the furniture, we will pack and ship it to your home. Contact us now to get your dream furniture.
Post your order our team gives a complete assistance regarding the purchase made from Wootique. Be it in assembling or styling tips we have got you covered.
₹

110,000.00 –

₹

140,000.00

₹

110,000.00 –

₹

155,000.00
Buy Solid Wood Furniture Online India
Buy Solid Wood Furniture Online: When we think of furniture there are so many styles and materials that come to mind, but few do justice to furniture like solid wood does. Solid wood furniture has history – ask your lineage; your parents, your grandparents, and the finest furniture stories that they have will always revolve around wood, simply because it has history that is worth talking about.
Why though is solid wood furniture considered an asset? Simply because it isn't just a matter of comfort but customization, which is rarely found with other materials. In the early era those with power would hire artists to carve, polish and paint their furniture as they wanted and pay them handsomely for crafting unique pieces. Wood was easily available, lightweight and easy to work with and so sturdy that it would last for decades.
At Wootique, we aspire to bring back that same luxurious feeling with custom furniture and handcrafted fine wooden home decor that is worth every penny and can prove to be an asset for a lifetime. Of course, that isn't the only reason we swear by it. Here are some other reasons why investing in solid wood furniture can be the greenest and greatest choice you'll ever make!
Why Solid Wood Furniture?
Latest In Solid Wood Furniture