Select Right Piece of Wood
Wootique believes that logs/woods should be sourced ethically using the standard method of procuring woods which are further used in making custom furniture. Hardwoods like maple, walnut and some exotic woods are good options for live edge furniture.
There are many options for oaks. These include the red, white and black oaks and maple and sycamore. Each species is unique, but it's possible to find a custom furniture maker that specializes in live-edge furniture & that's where our team helps you to pick the bes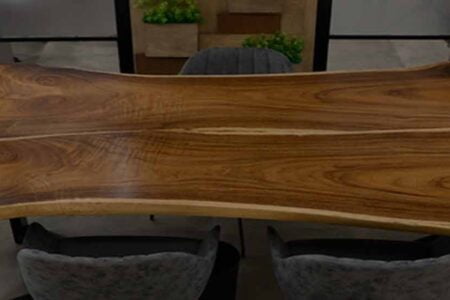 7% Green Twisted Bar Stool ₹14,000.00 ₹15,000.00 Add to Cart Add to wishlist Adding to wishlist Added to wishlist 7% Jute Wooven Stool ₹14,000.00 ₹15,000.00 Add to Cart …
Continue reading
Process To Customize Wooden Nesting Table
Share your furniture's design in the form of sketch, photo or URL and tell us of any additional/specific customization request including the size.
Select the size of the furniture/ item as per your space availability or requirement.
Customize your shape with our in-house talented designers, who can assist you with your specific concern.
On receiving the details of your custom furniture, our designers will create a rough design with specific customization.
We provide only premium quality materials but you can choose as per your request of customization and we will create using as per the requested materials.
As soon as our team receives the confirmation for the design we will initiate the manufacturing for your dream custom furniture.
After successful manufacturing of the furniture, we will pack and ship it to your home. Contact us now to get your dream furniture.
Post your order our team gives a complete assistance regarding the purchase made from Wootique. Be it in assembling or styling tips we have got you covered.
Custom Wooden Nesting Table
There's something about custom wooden nesting tables that just makes them so appealing. Maybe it's the fact that they're versatile and can be used in a variety of ways. Or maybe it's the classic style that never seems to go out of style. Whatever the reason, nesting tables are a must-have for any home.
And if you're looking for a unique custom wooden nesting table set that's made from high-quality wood, then you should definitely check out the nesting tables from Custom Wooden Nesting Table. These tables are handcrafted from beautiful solid wood, and they feature a unique design that's perfect for any home.
Plus, the nesting tables from Custom Wooden Nesting Table are available in a variety of different sizes, so you can find the perfect set for your home. And, if you need a custom size, the folks at Custom Wooden Nesting Table can easily create a set to fit your specific needs.
So if you're looking for a unique, high-quality nesting table set, be sure to check out the nesting tables from Custom Wooden Nesting Table. You won't be disappointed.
Adding a custom wooden nesting table to your living space can provide a touch of elegance and functionality. This type of table is perfect for small spaces, as it can be easily stored away when not in use. Custom nesting tables can also be made to fit any style and décor.
Why Custom Wooden Nesting Table?
Our team puts the absolute best into our custom wooden furniture so that you benefit from it. Each household item/furniture we make is the amount of imaginative design, premium materials, and amazing craftsmanship. It starts as a thought that is then refined by our skilled artisans and design team to a completely customized piece of wood.
We source premium wood and use cutting-edge gear close to traditional development techniques. Our team creates complete designs that make the wood look it is absolute best.
Our design and custom wooden furniture development team work together to craft extraordinary furniture using the latest trendy design and the best quality raw materials. We aim to offer quality furniture to our customers that deliver the best result.
Getting the Dimensions of furniture for your compact or livish home, office or garden is not soo easy. We make it easy for you, our Furniture fit's your space according to your need. You are independent to provide your dimensions, and we are here to get it done.
You have many ideas when you make your dream home to be spoken. We are here at wootique to understand your need and get your dream designed by our in-house talented designer's.
When we craft your furniture we don't only think about the design we also keep its reliability and sustainability in our mind which provide you high resale value. We always use premium quality woods which has to be chosen by our client the wood of their own choice from our wider range.