Discover Nature's Beauty with Live Edge Furniture
Embrace the allure of live edge furniture, where nature's beauty meets exquisite craftsmanship. Explore our handcrafted collection, featuring stunning live edge tables, shelves, and more, crafted to perfection for your unique style. Elevate your home decor with the timeless charm and organic appeal of live edge furniture, bringing the great outdoors inside. Shop now and experience the artistry of live edge designs at wootique.
Select Right Piece of Wood for Live Edge Furniture
Wootique believes that logs/woods should be sourced ethically using the standard method of procuring woods which are further used in making custom furniture. Hardwoods like maple, walnut and some exotic woods are good options for live edge furniture.
There are many options for oaks. These include the red, white and black oaks and maple and sycamore. Each species is unique, but it's possible to find a custom furniture maker that specializes in live-edge furniture & that's where our team helps you to pick the bes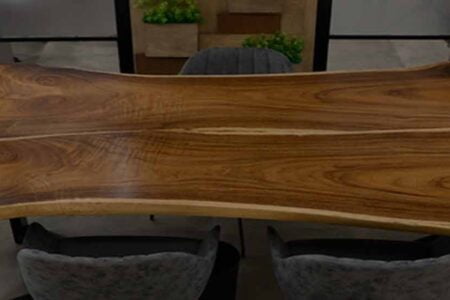 7% Green Twisted Bar Stool ₹14,000.00 ₹15,000.00 Add to Cart Add to wishlist Adding to wishlist Added to wishlist 7% Jute Wooven Stool ₹14,000.00 ₹15,000.00 Add to Cart …
Continue reading
Process To Customize Live Edge Furniture
Share your furniture's design in the form of sketch, photo or URL and tell us of any additional/specific customization request including the size.
Select the size of the furniture/ item as per your space availability or requirement.
Customize your shape with our in-house talented designers, who can assist you with your specific concern.
On receiving the details of your custom furniture, our designers will create a rough design with specific customization.
We provide only premium quality materials but you can choose as per your request of customization and we will create using as per the requested materials.
As soon as our team receives the confirmation for the design we will initiate the manufacturing for your dream custom furniture.
After successful manufacturing of the furniture, we will pack and ship it to your home. Contact us now to get your dream furniture.
Post your order our team gives a complete assistance regarding the purchase made from Wootique. Be it in assembling or styling tips we have got you covered.
Do Live Edge Furniture Warp and Crack?
Live edge furniture are built with natural wood. The material is prone to warping and cracking, but only when it is not properly made or cared for.
Usually, the slab will crack if it's exposed to water damage or harsh temperatures and chemicals. Wootique uses premium quality naturalist wood to produce live-edge furniture that is sealed and treated with a top coat, so you can rest assured they will remain beautiful and sturdy for many years to come.
How much does a live edge furniture cost?
The price of live edge furniture can vary greatly depending on the type of wood used, the size and complexity of the piece, and the level of craftsmanship. Some simple, small pieces might only cost a few thousand INR, while large, complex pieces can cost ten's of thousands INR.
One important factor to consider when purchasing live edge furniture is the quality of the craftsmanship. Furniture that has been carefully crafted using high-quality materials can last for many years and is worth the investment. However, furniture that has been hastily put together with low-quality materials is likely to fall apart soon after purchase and is not worth the expense.
Ultimately, the cost of live edge furniture depends on the individual piece and the level of craftsmanship involved. buyers should carefully consider all of the factors involved before making a purchase.
Getting the Dimensions of furniture for your compact or livish home, office or garden is not soo easy. We make it easy for you, our Furniture fit's your space according to your need. You are independent to provide your dimensions, and we are here to get it done.
You have many ideas when you make your dream home to be spoken. We are here at wootique to understand your need and get your dream designed by our in-house talented designer's.
When we craft your furniture we don't only think about the design we also keep its reliability and sustainability in our mind which provide you high resale value. We always use premium quality woods which has to be chosen by our client the wood of their own choice from our wider range.