Nature's Artistry: Live Edge Table Top
Discover the beauty of live edge table top, where nature's artistry takes center stage. Explore our handcrafted collection of exquisite live edge table top, meticulously designed to enhance the appeal of your furniture. Embrace the organic charm of live edge wood, showcasing stunning wood grains and natural edges that infuse character into every piece. From dining tables to coffee tables, find the perfect live edge table top that elevates your interior decor. Experience the timeless allure of live edge craftsmanship, where each top is a unique masterpiece.
Select Right Wood for Live Edge Table Top
Wootique believes that logs/woods should be sourced ethically using the standard method of procuring woods which are further used in making custom furniture. Hardwoods like maple, walnut and some exotic woods are good options for live edge furniture.
There are many options for oaks. These include the red, white and black oaks and maple and sycamore. Each species is unique, but it's possible to find a custom furniture maker that specializes in live-edge furniture & that's where our team helps you to pick the bes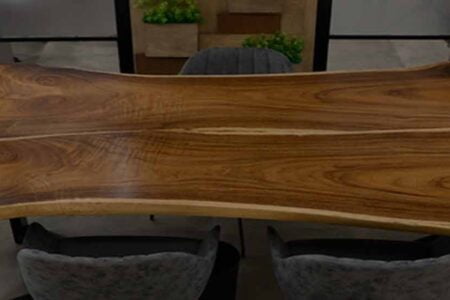 7% Green Twisted Bar Stool ₹14,000.00 ₹15,000.00 Add to Cart Add to wishlist Adding to wishlist Added to wishlist 7% Jute Wooven Stool ₹14,000.00 ₹15,000.00 Add to Cart …
Continue reading
Making Process Of Live Edge Table Top
Share your furniture's design in the form of sketch, photo or URL and tell us of any additional/specific customization request including the size.
Select the size of the furniture/ item as per your space availability or requirement.
Customize your shape with our in-house talented designers, who can assist you with your specific concern.
On receiving the details of your custom furniture, our designers will create a rough design with specific customization.
We provide only premium quality materials but you can choose as per your request of customization and we will create using as per the requested materials.
As soon as our team receives the confirmation for the design we will initiate the manufacturing for your dream custom furniture.
After successful manufacturing of the furniture, we will pack and ship it to your home. Contact us now to get your dream furniture.
Post your order our team gives a complete assistance regarding the purchase made from Wootique. Be it in assembling or styling tips we have got you covered.
How to fit Live Edge Table Top with Interior?
Adding live edge furniture to your home is a great way to add personality and a custom touch to your interior design. However, if you're not sure how to fit this unique furniture with the rest of your space, don't worry – we're here to help.
When choosing live edge furniture, it's important to think about the overall style of your home. Is your interior decorated in a contemporary or modern style? If so, a live edge table or bench may not be the best fit. However, if your home has a more rustic or natural vibe, then a piece of live edge furniture is the perfect addition.
Once you've decided on the style of your home, it's time to start thinking about the placement of your new furniture. When it comes to live edge furniture, it's best to keep things simple. try to avoid overcrowding your space with too many statement pieces. Instead, choose one or two live edge pieces that will really stand out and make a statement.
How To Care Live Edge Furniture?
Do not let your piece sit directly in the sunlight as light is not good for organic materials and can cause changes in color and/or warping and cracking.
Apply sealant, which helps prevent natural elements like rainwater, sun exposure, and plant growth from harming the surface finish. If you have a piece of live edge wood furniture outdoors, be sure to apply polyurethane annually
Polish live edge wood with a conditioning cream when required.
Do not place your furniture piece close to a fireplace as it will dry it out.
Clean your live edge piece wipe with a slightly damp cloth. You may use a bit of mild soap or detergent. Make sure no moisture is left on the surface.
Dust with a microfiber cloth.
What Else Can Be Made With Live Edge Wood?
Since live edge furniture is all the rage, people are starting to get more creative with the types of pieces they make. Here are a few ideas of what else you can make with live edge
Since live edge wood can be used for many different applications, it is a versatile material that can be used in a variety of ways. Some other items that can be made with live edge wood include lamps, tables, benches, chairs, personal bar set up, coffee tables, shelves, doors, windows and more.